Josiah Bunting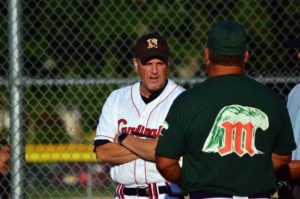 Bobby Woods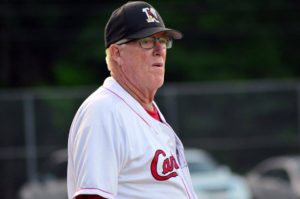 Bobby Woods began his baseball career in the shore town of Margate, New Jersey, where he played on countless championship teams throughout his youth.  During his years at Atlantic City High School, he earned 9 Varsity Letters in three sports, including four in baseball as a starting shortstop.
Thirty years later, in November of 1994, he was inducted into the Atlantic City High School Athletic Hall of Fame, representing the first group of athletes recognized in the school's history.
After playing one season for Atlantic Cape Community College, Woods was drafted by the Chicago Cubs Organization, where he played shortstop and third base for four seasons. While playing for the Cubs, he earned a Bachelor's degree in Physical Education from Arizona State University. He would later earn his Master's Degree in Health and Physical Education from Rowan University in Glassboro, New Jersey.
Woods returned to his hometown in 1973, where he coached the Margate Senior League to a New Jersey State title. In 1974, he started the Shore Baseball Clinics, teaching the fundamentals of baseball and softball to children in several South Jersey communities for over 30 years.
In 1976, Woods began his four- year tenure as head coach of The Atlantic Cape Community College Baseball Team. In his first year, the team captured the Atlantic Conference and Region XIX Championship Titles. Woods was then selected Region XIX and Garden State Conference Coach of the Year.  In 1978 he was selected WOND Radio Station's Coach of the year, after his team became the 11th-ranked junior college Baseball program in the United States.
In 1983, Woods, a member of the Association of Professional Baseball players of America, helped select members of the United States PanAmerican Games Baseball Team.  One of his selections, later played on the 1984 United States Olympic Team.
Coach Woods continued the tradition, coaching several of his sons' local championship teams throughout the 1980's. In 1984, he readied his then 9-year old son for the Philadelphia Phillies Home Run Derby at Philadelphia's Veteran's Stadium, where Bobby Jr. beat out thousands of kids to take home Second Place. He still calls it one of his proudest moments as a coach and a father.
Woods went on to coach Egg Harbor Township High School in New Jersey to a tri-championship of the Cape Atlantic Division I in 1988. He received the Atlantic County and Atlantic City Press Coach of the Year for Scholastic Baseball, his fifth Coach of the Year Award.

Bobby and his son, an award- winning filmmaker from New York University, created their first baseball and softball instructional DVD, titled "Mom Can You Teach Me How To Hit?" They followed it up in 2010 with the release of "Down Broadway", and are currently in production on the third installment of the series "The Glove".